Commercial Painters Canberra
Looking for the best commercial painters Canberra has to offer to boost the aesthetic appeal of your business? Glendening Painting & Decorating Services is the best local painter for you. For us, it is crucial to make sure your business is talked about for all the right reasons. This can be achieved if you make your work environment look appealing and inviting.
You can do exactly that if you hire a painter who has in-depth knowledge of different types of building paints so you get the perfect colour and the best shades to achieve exactly what you want.
Our team of commercial painters in Canberra have helped businesses across the ACT look professional and tidy with our commercial painting services for years. Don't let your employees down with tired exteriors and messy interiors. Get the best painting contractor to revitalise your workplace so your staff will be inspired to do their best every single day.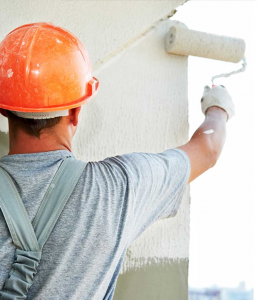 Commercial Painting Projects Canberra
Our team has accomplished completed a multitude of top notch commercial painting projects Canberra has ever seen. You can check this with our happy and satisfied clientele. Or you can hire us for your next projects and see for yourself.
How do we do this? At Glendening Painting & Decorating, we fully appreciate how busy business owners can be and understand that work downtime needs to be kept to a minimum. We can provide our commercial painting services whilst you work, causing minimal disruption to your work environment.
Alternatively, our professional painters in Canberra can work after hours if you prefer.
All painting projects are carried out in the safest possible manner and our current accident record is zero across our whole 28+ years in business.
All of our commercial painters are efficient, meeting your strict deadlines, whilst never compromising on quality finishes and results. Whether you are renovating to gain more office space or opening a new shop that needs to look fresh and exciting, you can count on us to nail your painting requirements.
We offer competitive prices to suit a variety of budgets and look forward to helping put your business on the map and giving your clients a lasting impression.
We can take care of your commercial property in the following ways –
Renovations
Re-modelling
Exterior painting
Interior painting
Maintenance programs
Graffiti removal
Anti-graffiti coatings
Special finishes
Where do we service?
We offer a comprehensive range of commercial painting services to commercial
property owners and business owners, operating their ventures in and around Canberra and the ACT.
Call today and book a quote
Get your hands on a no-cost, no-obligation quote from our experts today.
Whatever business or industry your commercial property belongs to, you can expect professionalism and quality assured results from our team of commercial painting experts.
We will help you every step of the way to ensure that all of your commercial painting needs are met with and the issues are addressed in a timely manner, with industrial-grade standards aimed for each service.
If you are in need of urgent assistance from a reliable team of commercial painting specialists, then call us today!
For more details, you can reach us on 02 6293 9160 or you can leave your details on our website and we'll get back to you ASAP!
Call our team of professional office and house painters to discuss your vision today!